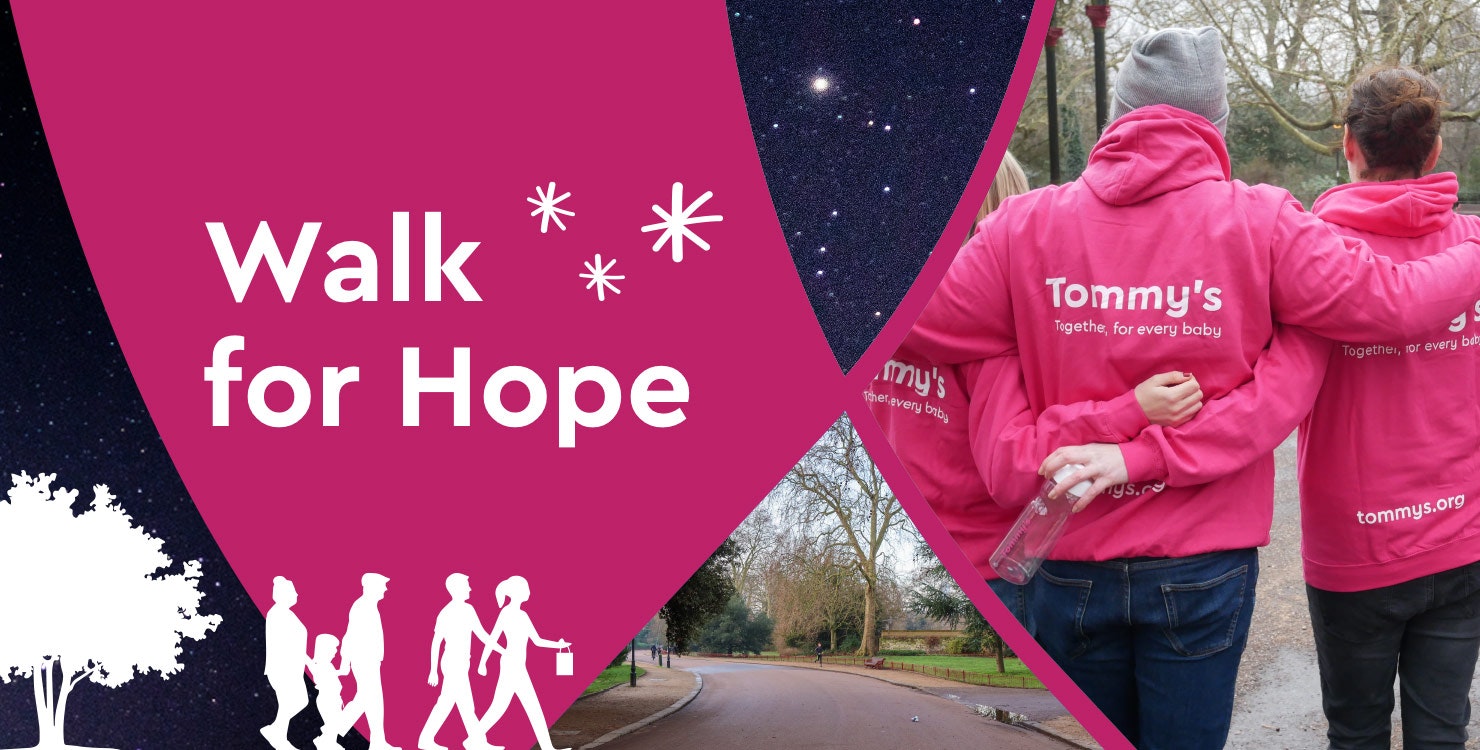 Frequently Asked Questions
In person event FAQ's
What is the Walk for Hope Battersea Park?
Our walk is an accessible sponsored walk. It will take place on Saturday 7th October in Battersea Park, London. It is a brilliant way to show your support for Tommy's and make a real difference to our cause. You can walk 2.5 or 5k.
Can I take part as a group?
Yes. You can sign up as a group via the registration form. You will need one lead booker and all the packs will be sent directly to them to distribute. We ask that each adult set up a fundraising page. Or you set up on page and set a target accounting for each adult in the group.
Please bring with you: 
A full water bottle – you will be able to fill up again at the event 
Sensible footwear for both the walk and the weather 
Warm clothing 
A fully charged mobile phone 
Yes, you are more then welcome to bring a buggy. The route is on path so very accessible. 
How long are your walk routes?
At the Battersea Park event you can do either a 2.5km or 5km distance.
Will I get a map of the route?
Route maps will not be required as our route is signposted and marshalled. All the info you need will be sent to you. But if you have any questions you get in touch with the team on walkforhope@tommys.org.
You are welcome to bring your dog along to the Battersea park event. Dogs must be kept on a lead at all times during the event. You will need to bring everything you need to look after your dog throughout the event.
Will water be provided at the event?
You will receive a bottle of water at the finish line thanks to our supporters Poundland. We encourage all walkers to bring their own bottles from home for the walk.
Where can I find accessibility information the walk?
The Battersea Park event has accessible toilet, and first aid provision with an emergency vehicle and responders on site. 
Assistance dogs are welcome at our events. 
There is a PA system with a microphone used for announcements and to play music. All essential event information, including timings and directions, will also be sent in advance to all participants and volunteers. 
If you, or somebody in your party would like to discuss attending the event in advance for any reason, please contact our team at walkforhope@tommys.org.  
If a participant is unable to take part an event without the additional assistance and support or a carer on the route, please get in touch with the team on walkforhope@tommys.org. 
What health and safety measures will be in place?
The safety of our participants is very important to us. There will bea number of marshals and volunteers throughout the event looking after you. Please follow their instructions at all times. 
Head over to our registration form on the website and enter your details to sign up to the walk.
It is essential that all those wanting to take part the event register on our website. Even babies will be accounted for. 
Under 16s can take part in our events if they are accompanied by an adult over 18.
When will I receive my lantern pack?
We will be sending out packs with lanterns from 11th September onwards. If you have not received your pack 2 weeks out from the event, then please get in touch with us directly on walkforhope@tommys.org
Can I register on the day?
Yes you can, but we encourage you to register in advance so that you have time to personalise your lantern if you wish and complete your emergency contact details on your bib. This will give you more time to enjoy the event village too. If you want to register on the day please arrive in plenty of time to complete your registration and pay your entry fee as the walk starts promptly at 6pm. The event village is open from 5pm.
What should I do if I can no longer attend the event?
We are unable to offer refunds except in exceptional circumstances. Please contact the team if you want to request a refund of pass your place on to someone else on walkforhope@tommys.org.
Is there a fundraising target?
Yes. We are asking adult participants to aim for £200 in sponsorship. We will be sending out tips on how to maximise sponsorship on email. You can also see more on our resources page of the website. There are rewards offered for hitting fundraising milestones.
Where do I send my sponsorship and donations?
Please set up a JustGiving page as directed on when you sign up.
Can you help me with issues on my JustGiving page?
Please contact JustGiving directly if you are having issues with your page – help@justgiving.com
Where do you send rewards?
We will be sending fundraising rewards from 29th September onwards. Keep an eye on your email for more details.
I have suffered a loss/ have a pregnancy question and would like to talk to someone at Tommy's.
Virtual event FAQs
I am not able to take part at Battersea Park, can I do the walk for hope locally?
If you are unable to join us at Battersea Park, why not take on our 5K a day in October Challenge instead. Complete 5K, any way you wish, every day of October. 
Register for free and, when you start fundraising, you'll receive a FREE welcome pack, including a Tommy's T-shirt and distance tracker.
Find out more 5K a Day Challenge | Tommy's (tommys.org)
Sign up FAQs
I am having an issue signing up online, what should I do?